A Cured Case of Dermatitis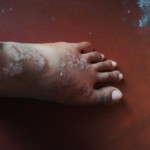 A female patient, named 'M' from khulna, Bangladesh, contacted about her skin complaints. She had been suffering from severe itching, oozing and scratch induced lesion at her left foot; her lower left leg, left ankle and ventrum surface of the left foot. It was in September 2015.
As she was not present, in person, I requested her to send some photos of the affected area, and after examining that I diagnosed it's a case of dermatitis.
She mentioned she feels slight burning after scratch and yet she is become tend to scratch, when it itch. It aggravated at evening and moist state, more likely, 20-25 minutes after being washed. Though she wipe out the water very eagerly, yet she felt the itch. She felt better with warm application, she was used to hot fomentation with towel or napkin. Her husband added to this, some times the fomentation is so hot that he became worried. Their kitchen sink / bathroom / toilet was swampy humid and she worked there bare footed, and did not use sandle at toilet. She was fine except this.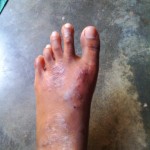 She was allergic to beef , prawn and spinach. Also had problem with extreme dusty weather. With a little fear, I started Arnica 1M, 10 drops, TD , before meal and added Nat Sulph 3X , 4tab, TD, after meal. 20 November 2015 she send me this.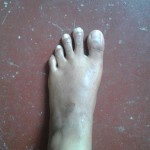 With happiness and grateful to homeopathy, I continued with the same medicine, at same manner. She completed the medicine in the 3rd week of December 2015. Till then she is not taking any medicine. And she was good, even she eat beef and spinach, in very small amount. I requested her to send he current photo and here it is
All credits go to ALMIGHTY ALLAH.